Medigap Plan G, also known as Medicare Supplement Plan G, is a supplemental policy that has become very popular in the past few years. Primarily because it is now the most comprehensive plan you can buy if you are just turning 65. Also, there are no copayments with a Plan G.
Medicare Supplement (Medigap) insurance Plan G offers the same benefits as Plan F except that the Medicare Part B deductible is not covered and must be paid out-of-pocket. Medicare out-of-pocket expenses, such as copays, coinsurance, and excess charges, are all covered with a Plan G.
How does Medicare Plan G work?
Plan G is one of ten standardized Medicare Supplement plans available to purchase. The plan is available to purchase by anyone who is eligible for Medicare Parts A and B.
Medicare Plan G is a supplemental policy, which means it isn't your primary coverage but fills many of the gaps left by traditional Medicare. The supplement pays after Original Medicare. All leftover costs after Medicare pays are picked up by the Plan G, except and a small annual deductible of $233 for the year.
What Does Medicare Plan G Cover?
Plan G covers everything that Medicare Part A and B cover, except for Part B deductible. This means that you won't pay anything out-of-pocket for covered services and treatments after you pay the deductible. There are no copayments with Plan G.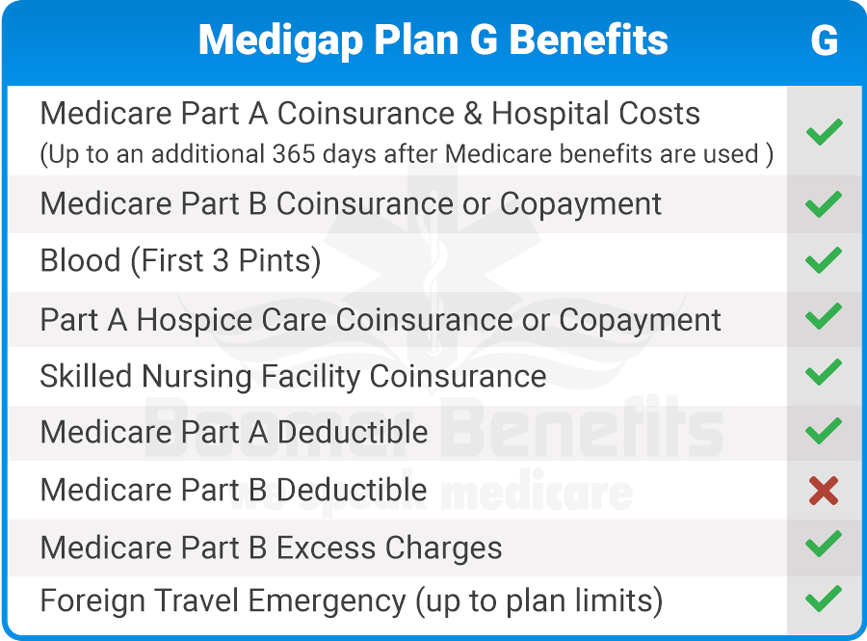 What Does Plan G cost in Los Angeles, CA?
In 2022, the cost of Medicare Plan G will range between $100 and $200 per month in Los Angeles. Your exact price for Plan G will be determined by your location, current health, age, and gender, for this reason, it is vital to compare rates among different Medicare providers so you can get your best Medicare rate possible. In CA, there are over 25 different insurance companies offering Plan G, each at a different price.
We are happy to provide you with a free rate comparison, just call us directly at (213) 214-2399.
What is the deductible for Plan G in 2022?
The only deductible that is involved when you have Plan G is the Part B annual deductible, which is $233 in 2022.
What are the Best Companies For Plan G?
There are over 25 different insurance companies offering Plan G in Los Angeles, CA. The main difference between them is the price they charge. There are other small factors that should be considered as well, such as possible gym benefits and customer service. Below we have listed a handful of the top companies that offer Plan G in California.
The 6 Best Medicare Supplement Plan G Providers in Los Angeles
Blue Cross Blue Shield of CA
Cigna
Mutual Of Omaha
UHC / AARP
Aetna
Anthem
How To Sign Up For Plan G?
The best time to enroll in Plan G is during the Medigap Open Enrollment Period. This starts when you turn 65 and your Medicare Part B is effective. Medicare enrollees age 65 years or older can buy a Medigap at any time but may be subject to health screening and medical underwriting.
In California, you can change companies around your birthday without having to answer any health questions. This is called the California Birthday Rule. You can read more about it here.
Why Work With Us?
We are completely independent and work with all the top companies and plans in Los Angeles, CA. We are able to compare all plan options and help you pick the plan that fits your unique needs and preferences.
During our initial consultation, we ask what your preferences are such as doctors, hospitals, budget, etc. These are things that help us determine what specific plan is best for your situation. In addition, we help our clients each year when it comes time to review your plan. We charge nothing for our services, we are compensated directly by the insurance companies and it does not affect the premium you pay.
Call us directly today at (213) 214-2399 for a free consultation or use the online form to get started.